Importance of the ozone layer and its structure
The ozone layer
The ozone layer is located at the height of 20 to 40 km above the sea level, And it is located in the lower part of the stratosphere layer, As it is the first layer of the atmospheric envelope that contains a suitable amount of oxygen gas, and it also faces the ultraviolet radiations that emitted from the Sun.
The structure of the ozone layer
The ozone layer is composed of the ozone gas which consists of three oxygen atoms.
The formation of the ozone gas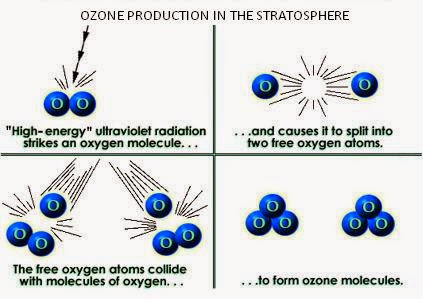 Each oxygen atom combines with oxygen forming the ozone molecule
The oxygen molecule absorbs the ultraviolet radiation (UV), Which causes the break down of the bond between the two oxygen atoms giving two free oxygen atoms, and each oxygen atom combines with an oxygen molecule forming the ozone molecule which is composed of three oxygen atoms.